The holidays are here and along with them come our favorite seasonal drinks and eats. Don't miss out on the edible holiday spirit just because you're dairy-free—there are plenty of widely accessible store-bought and homemade dairy-free options out there. We gathered a list of swaps for the most popular holiday dairy-based ingredients and dishes so you can celebrate the season. Don't see your traditional food or beverage on the list? Email us at [email protected] and we'll add it to the list!
The Ingredients
Whipped Cream
Is a dollop of whipped cream a day too much during the holidays? Not when it's non-dairy and you're keeping active! From topping dairy-free pies to creamy hot cocoa, make your own easy coconut whip or find one of these brands at your local grocer: SoDelicious CocoWhip!, Reddi Whip Non-Dairy Whipped Topping, Nature's Charm Coconut Whipping Cream, Truwhip, and Whole Foods 365 Coconut Whipped Topping. 
Butter
Whether you're schmearing it on fluffy, home-baked rolls or adding a bit of decadence to mashed potatoes, opt for a dairy-free butter brand. These brands can replace cows' milk-based butter in virtually every recipe in a one-to-one swap: Earth Balance, Miyoko's, Melt, It's Vegan I Can't Believe It's Not Butter, Pure Blends Avocado Oil Plant-Based Butter, and Country Crock Plant Butter with Olive Oil. 
Gourmet Cheese
What's a holiday gathering without a cheese board? Check out our Ultimate Guide to Dairy-Free Alternatives for a comprehensive list of high-quality non-dairy cheese brands, or read this article to learn how to construct the perfect Martha Stewart-approved cheese board. 
Hot Cocoa
You can easily make your own dairy-free hot cocoa (try this recipe), but when you want something quick on hand, stock up on these brands for some instant cozy: Lake Champlain Hot Chocolate Mix (Traditional, Holiday Peppermint, Mocha, or Spicy Aztec), Trader Joe's Sipping Chocolate, Ghirardelli Double Chocolate Premium Hot Cocoa, and Califia Farms Peppermint Mocha Cold Brew (find it in the refrigerated section and warm it up for a chocolatey caffeine kick). 
Eggnog
If it's not the holidays without a celebratory glass of eggnog, then make your own (try this recipe) or pick up one of these pre-made dairy-free varieties at your local supermarket: SoDelicious Dairy-Free Coconut Milk Nog, Blue Diamond Almond Breeze Almondmilk Nog, Good Karma Holiday Nog, Califia Farms Almondmilk Holiday Nog, Silk Nog, Malk Pecan Malk Nog, or Trader Joe's Almond Nog. 
Recipes For Your Dairy-Free Holidays

Challah
Even if you don't celebrate Hanukkah, you're going to want to make some challah this season. This fluffy yet hefty braided loaf of slightly sweet bread is amazing with a slather of dairy-free butter, a drizzle of maple syrup, or eaten plain straight out of the oven. Set aside an afternoon and make a few loaves for friends and family. Instead of cookies, give homemade challah! 
Find the recipe here. 

Bûche de Noël (Yule Log Cake)
This time of year, bakeries are full of decorative bûche de noëls, or jelly roll cakes adorned with gargantuan amounts of buttercream and snowmen-shaped marshmallows. Impress your guests by making your own dairy-free version. A word to the wise—practice once or twice before the event—it may take a few attempts to master the cake roll. 
Find the recipe here. 

Christmas Cookies
Leaving cookies for Santa? Make sure they're dairy-free so Santa doesn't have a stomach ache the rest of the night. We've compiled tasty recipes for Santa's favorite cookies. Read, set, bake! 
Sugar Cookies
Chocolate Chip Cookies
Snickerdoodles
Peanut Butter Blossoms
Mexican Wedding Cookies

Mashed Potatoes
A one-for-one swap of a dairy alternative always works with mashed potatoes, but if you aren't following Aunt Ida's recipe and you're looking for a recipe to call your own, this roasted garlic variety is it. 
Find the recipe here. 

Scalloped Potatoes
Between the cheese and the heavy cream in this traditional holiday dish, it often tends to contain more dairy than actual potatoes. This recipe is equally as creamy and indulgent—without the trans fat, hormones, or cholesterol of dairy. Perfect comfort food for your dairy-free holidays!
Find the recipe here.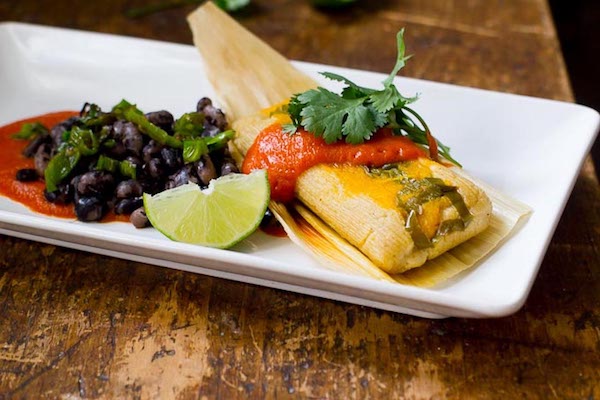 Tamales
If you say you don't like tamales, you just haven't had a good one. These pumpkin-stuffed tamales with oil-free red pepper sauce rival those of any abuela. While they take a bit of time to prepare, that's what family is for—eight hands are better than two when you're making enough tamales to feed a crowd!
Find the recipe here. 

Creamy Vegetable Pot Pie
We discovered this recipe a few years ago, and since then, it has become the recurring main dish during our dairy-free holidays. This veggie-packed, savory, and flaky pie has yet to feed a person without reciprocating a compliment. In fact, if you made nothing else, this dish would be enough to send everyone home full and satisfied. 
Find the recipe here.