We are an evidence-based nonprofit here to disrupt the status quo for good with you by our side. We are dedicated to rattling accepted norms around dairy and health, working to abolish the current system of dietary racial oppression, and promoting solutions for climate change. Discover how you can make a big difference in your health, performance, and the world we share with all beings.
Nutrition Educators for the LA Clippers
Is Dairy Making You Sick?
It's estimated 65% of the worlds population experience some form Lactose Intolerance, with an even higher prevalence among African Americans, Hispanics, Ashkenazi Jews, Asians, and Native Americans.
Find out if you might have it and what you can do about it with our quiz!
What does dairy-free food look like?
Delicious.
Fast.
Satisfying.
Nutritious.
Our Switch4Good Around the World GoodBowls stimulate your senses and fuel your body to take on the toughest workouts and most demanding days. Chef-created and athlete-approved, these simple-to-follow recipes will transform the way you eat—for good.
Everyone can benefit from ditching dairy. Whether you're looking to improve your health, raise a family, optimize athletic performance, protect the environment, or stand up for social justice, you can do so by going dairy-free. Learn more about the implications dairy places on all of these topics.
Olympic medalist Dotsie Bausch, together with Baywatch actress and certified health coach Alexandra Paul, take listeners on a transformative journey to optimal health and performance through plant-based eating.
"What happened after I made the switch was nothing short of extraordinary. It was kind of magical. I wasn't expecting it, but my performance improved drastically, and I knew there was no turning back."
Dotsie Bausch
Olympic cyclist and founder of Switch4Good.org
Switch4Good Blog
Athlete stories. Recipes. Science-backed articles. Find it all in our Switch4Good blog.
There's more than just dairy-free cheese on the market. Here are our favorite dairy-free cheesy products from frozen pizza to boxed mac and cheese.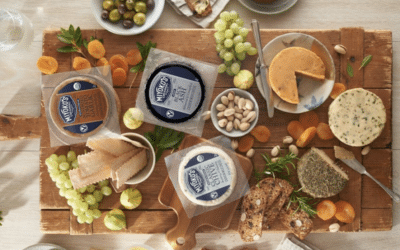 If you've been in a long-term relationship with cheese, you may not know how hot the dairy-free dating scene is. In just the past few years, non-dairy cheese has reached its A-game, and there are plenty of attractive options to choose from. From gourmet gouda to...
The mere idea of giving up cheese completely is daunting for many. The psychology is similar to the old trope—when someone tells you not to think of the purple elephant, all you think about is the purple elephant. We get it. When cheese is a staple in your diet and...