Happy Holidays! We asked our team of athletes to share their favorite dairy-free holiday recipes, and they did not disappoint! We sampled all of them, and we can confidently say that not only do these foods taste good, they make us feel good! From moist, oil-free muffins to traditional plant-based mac and cheese, we've got you covered for all the festivities and family gatherings coming this month. We hope you enjoy these holiday recipes…and share!
Christmas Morning Cranberry Orange Muffins
By Mary Schneider, Marathoner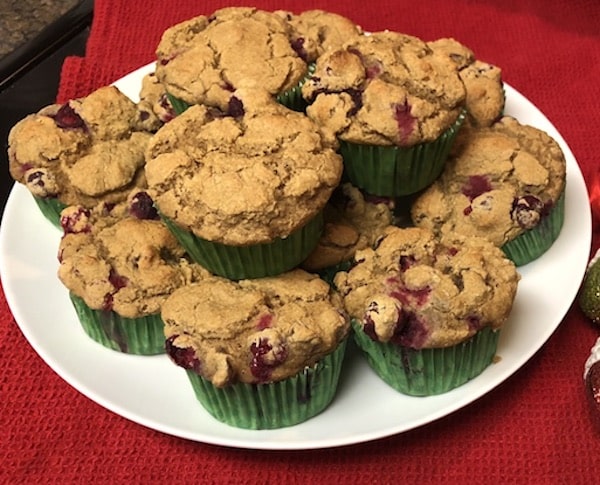 My family loves to make these muffins for Christmas morning to eat with a cup of coffee while opening gifts with loved ones. They are not only vegan, but gluten-free, oil-free, and naturally sweetened with maple syrup and dates. Perfect for athletes who want to satisfy a sweet tooth without slowing them down and interfering with their fitness and nutrition goals!
Ingredients
1 cup gluten-free all purpose baking flour
1 cup oat flour
½ tsp salt
1 tsp ground cinnamon
2 ½ tsp baking powder
½ tsp baking soda
1 cup apple sauce
½ cup maple syrup
½ cup nondairy milk (I use unsweetened almond milk)
2 cups fresh cranberries (or thawed, if frozen)
1 cup dates (approximately 10 dates, pits removed and chopped)
Zest from one large orange (collect zest before cutting orange)
Juice from ½ large orange
Instructions
1. Preheat oven to 400 degrees. Line a standard 12 muffin tray with liners.
2. Combine almond milk, maple syrup, and apple sauce in a large bowl. Add chopped dates so they can soften. Break apart any clumps of dates with a spoon. Add zest and orange juice. Stir to combine.
3. In a separate bowl, combine dry ingredients (except cranberries). Pour wet ingredients into the dry and stir until well combined. Finally, fold in the cranberries. Pay attention to the consistency of the batter as the size of your orange may yield more juice. You want the batter to be thick (not thin like a cake batter). If needed, add more flour 1 tbsp at a time to thicken.
4. Using an ice cream scoop, divide batter evenly among the 12 muffin tins, filling them all the way up to the top.
5. Reduce heat to 375 and bake 25-30 minutes. You can tell they're done when a toothpick inserted in the middle of a muffin comes out clean.
6. Remove tray from the oven and let it sit for several minutes. Remove each muffin from the tin and enjoy! For storing, allow muffins to cool completely on a wire rack then pack in an airtight container at room temperature.
Baked Apple Pie Chia Pudding
By Holly Mata, Competitive Crossfitter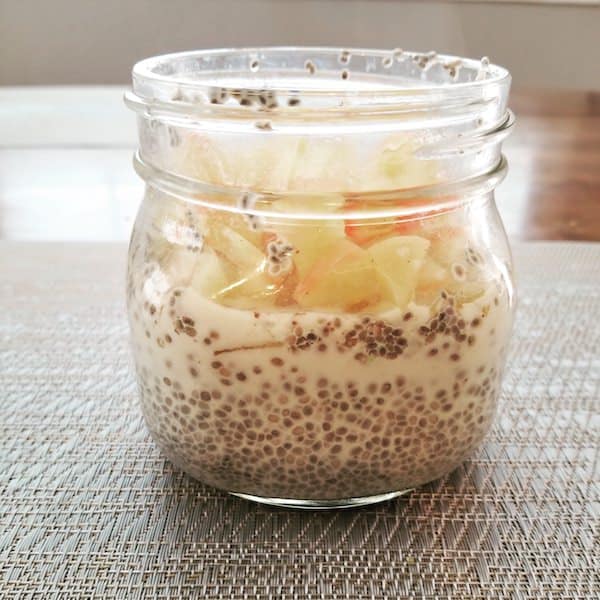 Breakfast or dessert? You decide! This seasonal apple pudding comes together so quickly, and you probably already have the ingredients on hand. If you make it in a mason jar, it's also a great grab-and-go treat, so you can take it to the gym, on a long ride, or wherever. Grab a spoon and dig in!
Ingredients
1/4 cup chia seeds
1 cup nondairy unsweetened vanilla milk
1 apple, diced
½ tsp cinnamon
1 tbs water
Splash of maple syrup, to taste
Instructions
1. Mix the chia seeds, nondairy milk, and about ¼ tsp of cinnamon in a jar. Cover and place in the fridge for 8 hours or overnight.
2. In a microwave-safe bowl, mix the diced apples with a dash of cinnamon (or to taste), water, and a splash of maple syrup. Microwave until the apples are soft, checking at 30-second intervals. They should be fork-tender.
3. Remove the chia pudding jar from the fridge and top with hot apples. Enjoy!
Plant-Based Mac & Cheese
By Donta Harris, Athlete and Plant-Based Lifestyle Coach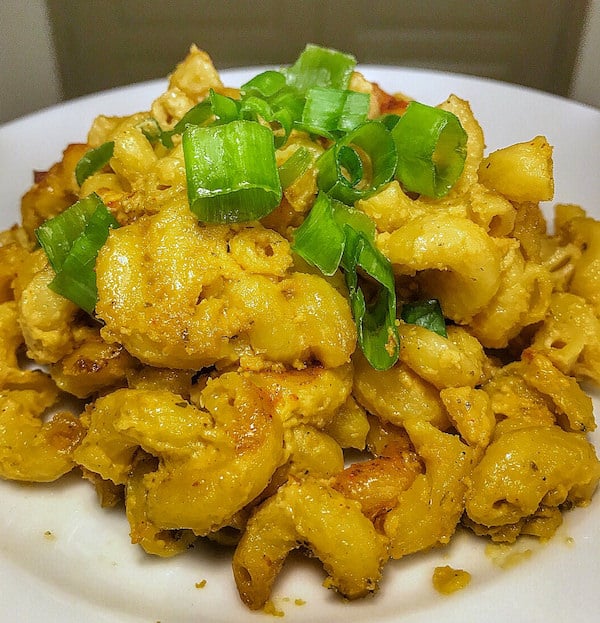 In my home, no holiday meal is complete without a casserole dish of mac and cheese. I love surprising my relatives with this dairy-free version – even the skeptics are surprised by how much they love it. It's also a whole lot healthier than cholesterol-laden dairy mac and cheese, so everyone can enjoy a generous helping without sacrificing their health.
Ingredients
8oz. box elbow macaroni
1 ½ cups organic soy milk
¾ cup nutritional yeast
1 garlic clove
½ tsp paprika
2 tsp of salt-free Spike seasoning
½ tsp sea salt
¾ cup canola oil
¼ cup diced green onions
Instructions
1. Preheat the oven to 350 degrees.
2. Follow the box instructions and cook the macaroni. Strain, transfer to a large mixing bowl, and set aside.
3. To make the cheese sauce, blend the soymilk, nutritional yeast, Spike seasoning, garlic, salt, and paprika until smooth. Slowly drizzle the oil in while still blending.
4. Pour 1 cup of the "cheese" sauce over the pasta and mix to coat. Transfer the mixture to an 8×8 casserole dish and pour the remaining sauce on top.
5. Sprinkle a little paprika over the pasta and bake at 350 degrees for 25-30 minutes or until golden brown and firm. Remove it from oven and allow it to cool for about 30 minutes. Top it with a few diced green onions right before serving.
Tis The Season 'Nice' Cream
By Dustin Watten, Volleyball Player, Team USA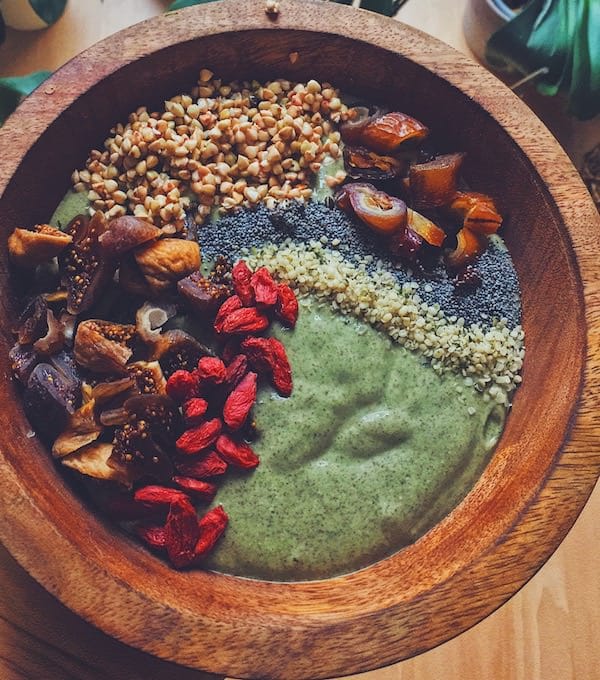 Christmas is around the corner which usually means processed foods, processed sugar and a ton of unchecked empty calories as the wrapping now. Here's a quick an easy way to fuel your day right! A sweet and creamy bowl full of micronutrients and phytonutrients. Add nut butter for an extra boost of calories.
Ingredients
Base
1.5 frozen bananas
2 dates
1/2 cup of almond milk (or plant milk of choice)
1/2 cup frozen spinach
1 tsp Cinnamon.
Dollop of nut butter (optional) (Bonus)
Toppings
1 – 2 figs, roughly chopped
1 date, roughly chopped
1 tbs goji berries
1 tbs sprouted buckwheat
1 tsp poppy seeds
1 tsp hemp seeds
Instructions
1. Using a high-speed blender, blend all base ingredients together until completely smooth. The mixture should be thick and spoonable.
2. Transfer mixture to a bowl and top with toppings. Feel free to omit or substitute toppings for whatever you have on hand – go for all figs, swap buckwheat with coconut flakes, goji berries for golden berries – whatever works for you!
Chocolate Avocado Pudding
Recommended by Abigail Oberla, Barre Instructor
I absolutely adore this perfectly creamy Chocolate Avocado Pudding by Kim Campbell of PlantPure Chef! It's almost too easy to create, which makes it the perfect healthy treat during this traditionally heavy time of seasonal eating. It's deliciously satisfying and super versatile: you can eat it plain, turn it into a pudding 'bar' by serving it with a variety of toppings (hello, nondairy whip!), or use it as a dip for fruit. The opportunities are endless!
Find the recipe here.