This refreshing watermelon, basil, heirloom tomato salad is perfect for those hot summer days when you need to cool off.
Total time: 20 mins
Servings: 16 (¾ cup each)
Ingredients for Heirloom Tomato Salad
Cubed seedless watermelon, 8 cups
2 large Heirloom Tomatoes, halved lengthwise and sliced
Minced fresh basil, 1/4 cup
Balsamic vinegar, 1/4 cup
Olive oil, 1/4 cup
Salt, 1/2 teaspoon
Baked almond feta made ahead of time with the recipe below, ¼ cup
Pepper, 1/2 teaspoon
Instructions
Combine watermelon, tomatoes, and basil in a large bowl.
Cut almond feta into smaller pieces (you can serve it warm or cold, as you prefer). Incorporate the desired amount into the salad.
In a small bowl, whisk the remaining liquid ingredients.
Drizzle over salad.
Serve immediately or refrigerate, covered, up to 2 hours before serving.
*To make the Baked Almond Feta Cheese:
Dairy-Free Feta Ingredients
1.5 cups of blanched almonds (200 g/7 oz)
Garlic, 2 cloves
White miso, 1 tablespoon
Whole lemon, juiced
Nutritional yeast, 1/2 teaspoon
Olive oil, 2-3 tbsp (optional)*
Water, ¼ – ½ cup
salt**
Feta Cheese Instructions
Place feta ingredients in a blender and blend until creamy. Try to use as little water as possible, to make a thick cream.
Transfer almond mixture to silicon or an oiled oven-proof dish.
Bake in preheated oven at 180°C/360ºF for 40-50 minutes, until the cheese is firm and the top turns golden brown.
Notes
* The more oil you add, the creamier cheese you get. But it also works perfectly without any oil. I personally don't add any oil to my feta, however this way it's a bit more dry and crumbly.
** Don't be shy with salt here. Regular feta cheese is really salty, so feel free to add a good amount to your almond feta.
*** Store leftover almond feta in an airtight container in the fridge for 3-5 days.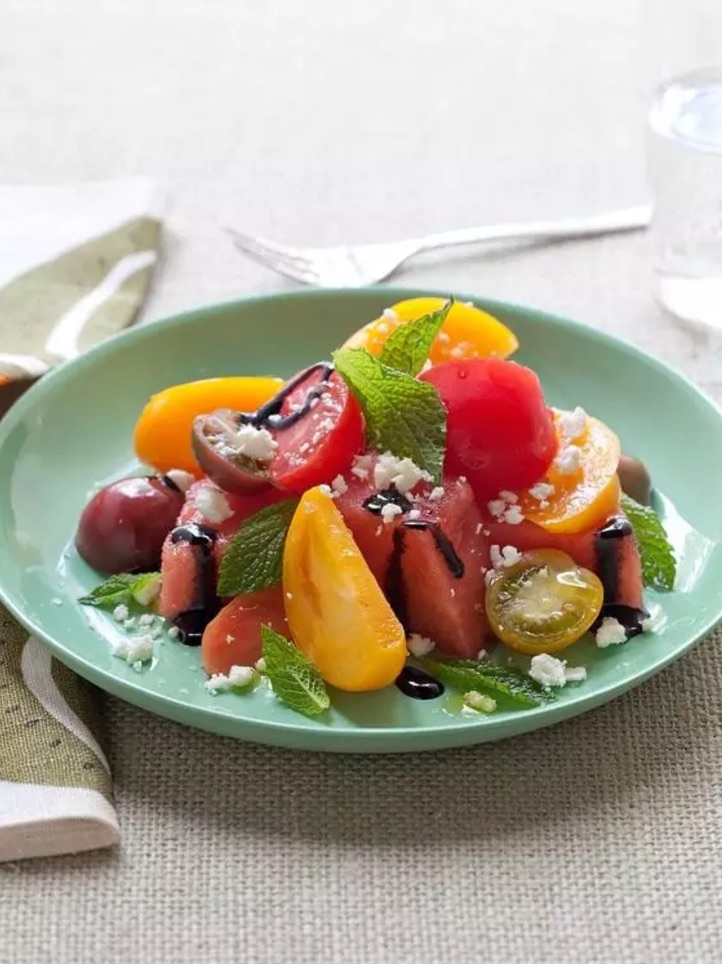 Loved this watermelon, basil, and heirloom tomato salad recipe? Check out our dairy-free recipes collection.