Pumpkin Pie: always a crowd pleaser. Here is the recipe for the easiest and tastiest pumpkin pie on the planet, with a new take on pumpkin pie crust that is crunchier and richer.
This is a breakfast dish that ANYONE can do. Breakfast in under 2 minutes with 19g of Protein!
Your brunch dreams are about to come true with this guilt-free Vegan French Toast! It's soft, sweet, fluffy, vanilla scented, golden perfection & all you need are a few simple ingredients & around 15 minutes of your time.
The simplest tofu quiche on the block with just 10 basic ingredients and no fancy methods required. Perfect for brunch.
You will never go back to regular scones once you try these amazing vegan babies.
This overnight recipe will give you a great reason to wake up and get your day started!
You'll never need to go to McDonald's again after trying this twist on the classic breakfast sandwich.
Did someone say pancakes without buttermilk? Yes we did and they are delicious. Packed with protein and yummies, these pancakes will leave you satisfied for hours.
Creamy and tasty spinach artichoke dip on top of a crispy crust makes this Vegan Spinach Artichoke Pizza an instant favorite.
Creamy, chewy, crunchy, and delicious, the perfect alternative to tuna salad.
This recipe is easy breezy and fills the belly with lunchtime joy. Use it for sandwiches topped with a little romaine lettuce, spread it on crackers, eat it right out of the bowl!
Make a summer staple plant-based with this super simple and delicious recipe. It's a new age take with all of the classic flavors.
Easy to prepare and refreshing to eat. Pair it with a slice of french baguette, and you have a perfectly balanced and healthy light lunch.
The quickest lunch you can make that is packed with protein and filled essential nutrients. For only 3 minutes of your time, you be full for hours!
This dairy-free, stick-to-your-ribs dish will comfort you all winter long!
Gluten-free and dairy-free, this is a mac & cheese everyone can enjoy!
If you love mushrooms then this soup is for you! It is loaded with so much earthy flavor!
This Creamy White Wine Vegan Gnocchi, ready in just 10 minutes, is a rich and simple meal that will have you coming back for more.
Ever try jackfruit before? If not, make these tostadas and you'll be amazed that you're not eating animal meat!
A classic recipe turned guilt-free. This easy to make lasagne is perfect for a weeknight meal or even a big crowd!
Just because you don't eat dairy doesn't mean you have to give up your favorite comfort foods. This Mac n' Cheese is so yummy and creamy you'd never guess it was vegan!
Who doesn't love tacos, especially on Tuesdays! This plant based recipe can be made as a whole or split up to fit your needs.
Pumpkin Pie: always a crowd pleaser. Here is the recipe for the easiest and tastiest pumpkin pie on the planet, with a new take on pumpkin pie crust that is crunchier and richer.
Ten different flavor options of creamy vegan banana ice cream recipes that you can make at home, with just a few ingredients and a blender!
Simple vegan, gluten-free cheesecakes that are creamy, slightly tart, perfectly sweet, and 100% irresistible.
Get your chocolate fix and and veggies all at once! These decadent vegan chocolate zucchini muffins are simple to make and delicious to eat!
Enjoy the flavors of fall + a soft, fluffy inside + a perfect muffin top + crunchy walnuts and pecans + maybe even a little drizzle of maple syrup if you're feeling fancy. It's vegan perfection in a baked good that will rock your tastebuds.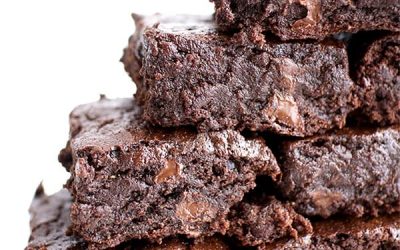 The best vegan brownies you've ever had: divinely rich, fudgy, and moist, bursting with chocolate flavor.
These Vegan Chocolate Chip Cookies are thick, chewy, and loaded with gooey chocolate. No one will guess they're vegan!
Simple dairy-free swaps. Kid tested, parent approved!
This soccer star knows how to throw a party!
Happy Holidays! We asked our team of athletes to share their favorite dairy-free holiday recipes, and they did not disappoint!
Brr…it's cold out there! Warm up after your workout with one of these classic dairy-free holiday drinks!
4 healthy and delicious dairy-free recipes to make for Thanksgiving.