What do athletes eat when they're rooting for their favorite teams? It's more than just carrot sticks! We asked our team what they love to snack on while watching the big game. Check out these stellar dairy-free recipes from Donta Harris (former college football player and current health coach), Chef Charity Morgan (celebrity chef to several Tennessee Titans and wife of Derrick Morgan), and Chris Manderino (former NFL player and current fitness entrepreneur). Grab an apron and get in the kitchen!
---
Chris Manderino's Homemade Hummus 2 Ways
Ingredients
– 2 15-ounce can chickpeas, rinsed
– 2 cloves garlic
– 1⁄4 cup olive oil, plus more for serving
– 2 tablespoons fresh lemon juice
– 1/4 tablespoon tahini
– 1 teaspoon ground cumin
– 3/4 teaspoon sea salt
– 1/4 teaspoon paprika
– 1 tablespoon Jalapeno roughly chopped
– 1/2 cup packed cilantro leaves
Instructions
1. In a food processor add tahini and lemon juice and blend until smooth.
2. Add the chickpeas and garlic with the olive oil, cumin, and sea salt and blend again until smooth and creamy.
3. Add 1 to 2 tablespoons of water as needed to achieve the desired consistency.
4. Divide dip equally into two bowls. Drizzle one with olive oil and sprinkle with the paprika. For the other bowl, stir in the jalapeño and cilantro. Cover both bowls with plastic wrap (make sure the wrap touches the hummus) and store in the fridge until ready to serve.
Want more from Chris? Sign up for the free Lyfe 21-Day Transformation and receive healthy, delicious recipes in your inbox every day!  
---
Chef Charity Morgan's Chipotle Chili

Ingredients
– 1 pound of kidney beans soaked overnight and then cooked OR  2-28oz cans of kidney beans drained and rinsed
– 3 tablespoons grapeseed or avocado oil
– 1 red onion, diced
– 1 red bell pepper, seeded and diced
– 3 stalks celery, chopped
– 3 carrots, peeled and chopped
– 1 butternut squash or small pumpkin, peeled, seeded, and medium chopped
– 4-5 cloves garlic, minced
– 1 small can tomato paste
– 1 16oz beer (or gluten-free beer) of your choice
– 1 teaspoon ancho chili powder
– 2-3 tablespoons chili powder (to taste)
– 1 tablespoon smoked paprika
– 1 tablespoon cumin
– 1 teaspoon cinnamon
– 1/2 teaspoon turmeric
– 1 tablespoon Italian seasoning
– 1 tablespoon Vegetable Better than Bouillon (mixed in 1/2 cup of water)
– 2 bay leaves
– 2-3 chipotle chilies in adobo sauce (or just one for less spice)
– 1- 28oz can of diced tomatoes
– salt and black pepper, to taste
– 1 bunch cilantro (tops and slight stems)
– 1 bunch green onions (green and white parts)
– Optional Toppings: cashew sour cream, shredded vegan cheese, thinly sliced scallions, chopped tomatoes, avocado, and lime wedges
Instructions
1. Over medium-high heat, add oil to hot pot or dutch oven. When the oil is hot, add onions, bell peppers, celery, and carrots and sauté until the onions are slightly translucent.
2. Add garlic and sauté until the garlic becomes fragrant, about 30 seconds. Add tomato paste and cook for 2 minutes to allow the paste to become a brick red color.
3. Stir in beer and cook for 2-3 minutes,
4. Add chipotle pepper with adobo sauce, all spices, bouillon liquid, cooked (and drained) kidney beans, and butternut squash. Simmer for 10 minutes.
5. Add the can of diced tomatoes with their juice, cilantro, and green onions. Taste and adjust seasoning if desired. Simmer on low for at least 30 minutes to allow flavors to meld. This can simmer longer and is a great recipe in a crockpot or slow cooker.
6. Serve with your favorite toppings and enjoy!
Notes
*Seasoning and spices can be altered to suit your taste and comfortable level of heat. This chili is a little heavy on the cumin, chili powder, and smoked paprika. It definitely has a kick!
**To increase the serving size add an additional can of beans. Black beans can be substituted for kidney beans.
Want more from Chef Charity? Check out her website for tons of other football player-approved recipes! 
---
Donta Harris' Kansas City BBQ Cauliflower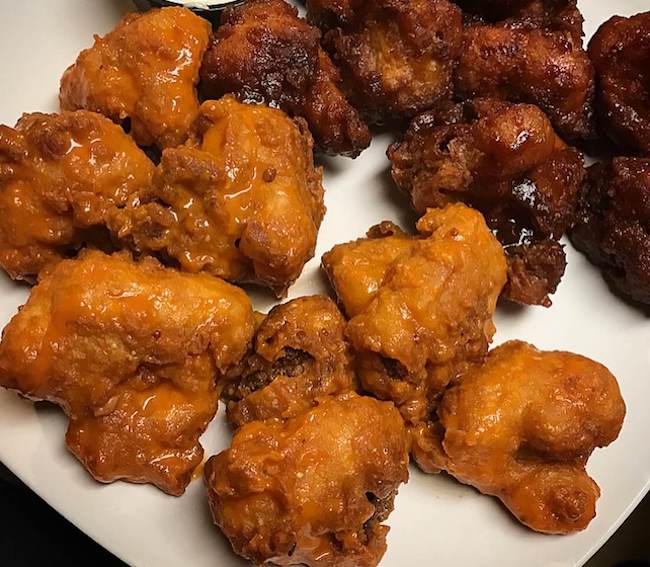 Ingredients
– 1 cup of your preferred seasoned flour (try Kentucky Kernel)
– 1 cup of panko bread crumbs
– 2 tablespoons nutritional yeast
– 1 tablespoon of lemon juice
– 1 ½ cups unsweetened plain soymilk or other nondairy milk
– Safflower oil, or other frying oil with a high smoke point
– 1 large head of cauliflower, cut into large florets
– 1 large bottle of your favorite BBQ Sauce (my favorite is Whole Foods 365 Kansas City Love)
Instructions
1. In a medium-sized mixing bowl add the seasoned flour.
2. In another bowl add the panko bread crumbs.
3. In another bowl combine the soy milk, nutritional yeast, and lemon juice and whisk until completely combined.
4. Heat the frying oil in a skillet over medium-high heat.
5. Dip a cauliflower floret into the wet mixture, then drop it into the flour and coat completely. Dip the floret back into the wet mixture, then dip it into the bread crumbs. It helps to keep one hand dedicated to wet mix and the other one dedicated to the dry mix. Repeat until all the florets are coated.
6. Carefully lower the coated cauliflower into the hot oil. Fry until the pieces are golden and crispy.
7. Transfer fried cauliflower florets to a large mixing bowl and toss with BBQ Sauce until each floret is generously covered with sauce. I normally use at least half the bottle but add as much as you like depending on how "saucy" you like your wings.
8. Next, place each floret on a baking sheet lined with parchment paper and place in oven for about 10 minutes at 400 degrees, or until the BBQ sauce begins to caramelize.
9. Turn the oven to broil for about 3 additional minutes.
10. Remove from oven and serve hot.
Want more from Donta? Follow him @the.southern.vegan