During the holidays and cold winter months, many of us gravitate toward comforting beverages to stay warm and cozy. Although many of our favorites traditionally contain cow's milk, we're certainly not going without this season. We've rounded up recipes for the best dairy-free holiday beverages for all the classic holiday drinks without the cow's milk. Cheers!
Dairy-Free Holiday Beverages:
White Russian
Need something stronger than eggnog? Whip up a nondairy White Russian for that same cool, creamy taste with a major kick. This adult beverage gets its milky profile from cashew cream and cashew milk. It's then mixed with vodka and Kahlua (a rum and coffee liqueur) to make things interesting. Put this on your signature cocktail list at your holiday party!
Find the recipe here.
Baileys Almande Irish Coffee
Did you know that Baileys makes a nondairy version of its classic Irish Cream liqueur? The beverage debuted in 2016, and you can find it as Baileys Almande (it's made with almond milk). Drink it on the rocks, or cozy up with a boozy Irish coffee. Simply combine 2 oz of Almande with 6 oz of coffee and 1 oz of Irish whisky. Top with some dairy-free whipped cream if you're really celebrating!
EggNog
There are quite a few plant-based eggnog products on the market (we love the Califia brand), but you can also make it at home! It only takes about ten minutes, and you can customize the spices and sweetness to your liking, because some products out there are way too sweet. This is a great one for the kids, too!
Find the recipe here.
Hot Cocoa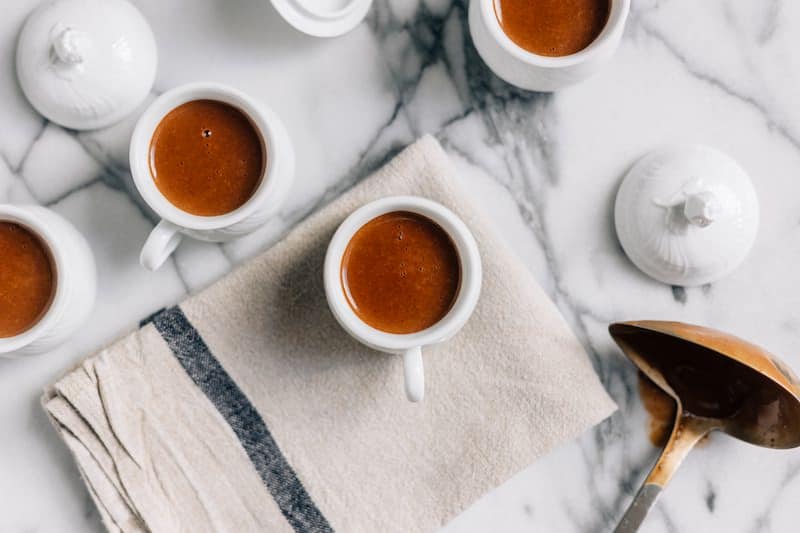 Like eggnog, there are a plethora of dairy-free hot cocoa products widely available in stores and online, but making your own can be just as quick – and far healthier. This recipe requires just four simple ingredients that you probably already have on hand, so you can get to that cozy holiday happy place in a matter of minutes.
Want to go above and beyond? Take this recipe and play around with flavorings and spices for a unique cup. Add a drop or two of peppermint extract, or stir your mug with a candy cane for perfectly Peppermint Hot Cocoa. If you're a spice seeker, swap the candy cane for a cinnamon stick, or simply add a dash or two of cinnamon and a tiny bit of cayenne for Mexican Hot Chocolate. Another simple trick is to add a pinch of salt for a Salted Hot Cocoa. Top with dairy-free whip or Dandies marshmallows!
Find the recipe here.
Whipped Cream
Most holiday beverages are better when topped with a generous dollop of dairy-free whipped cream. While there are exceptional store-bought options, nothing compares to homemade. All you need is a quality can of coconut milk, some powdered sugar, and vanilla. If you don't have beaters, get your arm workout in and whip it yourself!
Find the recipe here.
Pumpkin Spice Latte
Skip the sugary artificial syrups (and the line) at the coffee shop and make your own wintery indulgence. Adjust the spices and sweetness to your liking and brew yourself the perfect cup. This is the drink we're looking forward to during our blustery Saturday morning long runs!
Find the recipe here.
---
Looking for more dairy-free recipes like these dairy-free holiday beverages? Check out our recipes collections page for more.