If you're looking for the most delicious dairy-free blueberry pancakes recipe, look no further. Blueberry pancakes can be the ultimate morning comfort food (or breakfast for dinner, your preference) and can be fun to make pancake shapes with kids. This recipe serves 4-6, but you might not want to share!
Dairy-Free Blueberry Pancakes Ingredients (Serves 4-6):
1/2 Cup Oatmeal
1 1/2 Cup Unbleached Flour
2 Tablespoons Baking Powder
2 Tablespoon Flaxseed meal
1/2 teaspoon salt- (optional)
1 Banana, Mashed
2 cup Soy or Almond Milk
2 Tablespoons Maple Syrup + more to add when serving
1/3 Cup Blueberries (optional)
Directions for cooking dairy-free blueberry pancakes:
Add Oatmeal to a blender or food processor. Blend until youíve made oat flour.
Add the wheat flour, baking powder, flaxseed meal, and salt together in the blender. Pulse to combine.
Add the bananas and non-dairy milk & Maple Syrup and mix again.
Stir in the blueberries.
Heat a non-stick griddle over medium heat. Pour mixture by 1/4 cup measure onto the heated griddle. Flip to turn over when bubbles start to appear on the surface of each pancake. Cook until brown on both sides. Repeat until all mixture has been used.
Enjoy with warm Maple Syrup
HINT: We make this in a high-speed blender and add the blueberries to each pancake individually. This helps with clean-up as youíve only the blender to clean. However, making this in a bowl will work as well.
Recipe and Photo by Stefen Janke/Plant Punk Kitchen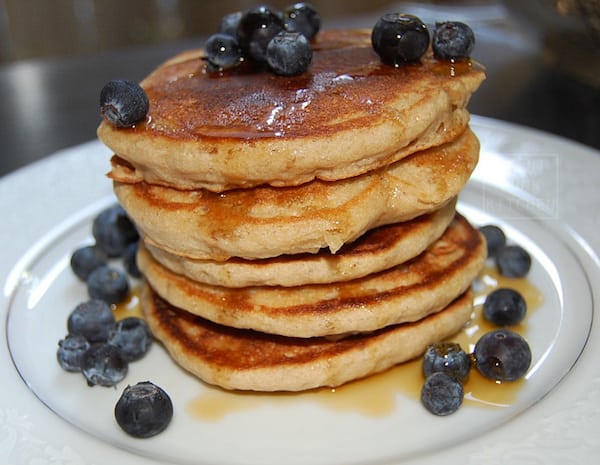 Loved these dairy-free blueberry pancakes? Check out our dairy-free recipes collection.