A dairy allergy is one of the most common food allergies, and it is particularly prevalent in young children. Up to three percent of children in western populations are estimated to be allergic to dairy, and while many children grow out of the affliction, 6.1 million adults in America reported dairy allergy symptoms in 2019. Symptoms can range from very severe life-threatening anaphylaxis to less serious reactions such as hives. You deserve to feel your best every day. Read on to learn more about dairy allergy symptoms, its causes, and its cures.
What Is a Dairy Allergy?
A dairy allergy is an immunological reaction to the proteins in milk (casein and whey). When an individual with a milk allergy consumes dairy of any kind, the body triggers an immune response to fight off what it sees as a harmful substance. Individuals can experience an array of symptoms that are a result of this immune response.
Signs and Symptoms of a Dairy Allergy
A dairy or milk allergy reaction can be immediate or occur up to three days after consuming dairy. These delayed responses make the allergy difficult to diagnose, as people may not associate their symptoms with the bowl of cows' milk ice cream they ate three days prior. Symptoms range from mild and uncomfortable to severe and life-threatening.
Immediate Allergic Reactions to Milk and Dairy
Those who experience immediate allergic reactions to dairy are generally aware of their allergy. These symptoms include wheezing, rash, lip-swelling, and anaphylaxis.
4 Delayed Allergic Reactions to Milk and Dairy
Delayed allergies (called non-IgE mediated) may take up to three days for symptoms to manifest. Those who experience delayed allergic reactions often report 'thick note syndromes' (patients with long medical history files that no doctors have been able to help). The symptoms triggered by a dairy allergy may often look like disease and can seem elusive given their delayed response. The unifying mechanism underlying all these symptoms is inflammation. A dairy (or other food) allergy can lead to an overworked immune system and chronic inflammation in the body.
1. Eczema, Acne, and Other Skin Complaints
There are now multiple studies that support a link between acne and dairy consumption. A dairy allergy can also cause a delayed reaction manifesting as eczema. While more research is needed, those with chronic skin issues tend to report clearer skin after eliminating dairy from their diets.
2. Joint pains
Studies as far back as 1986 have illustrated improvements in joint symptoms (and even rheumatoid arthritis) with an elimination diet. Participants who suffered from joint pain and permanently eliminated dairy from their diets experienced pain relief, while those who reintroduced milk and dairy reported a return of their joint pain symptoms.
3. Asthma, Sinus Issues, and Other Respiratory Problems
The casein in dairy can cause increased mucus production in the airways and lungs. Over time, this excess mucus may lead to asthma symptoms and recurrent sinus problems like chronic sinusitis.
4. Fatigue and Weight Loss Resistance
Fatigue is such a common symptom of a dairy allergy, and while there are many other causes (issues with your thyroid or hormonal imbalance), if a full medical workup has been conducted and no cause for fatigue can be identified, it is advisable to discuss the possibility of a dairy allergy or other food sensitivity with your medical provider.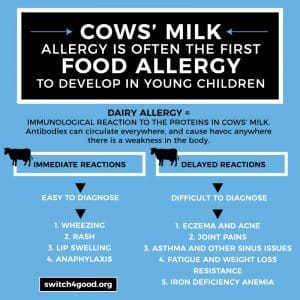 I Think I Have a Dairy Allergy, What Do I Do?
If you experience any of these symptoms, eliminate dairy from your diet for three weeks to determine if dairy may be the culprit. Monitor your symptoms and keep a diary. At the end of the three weeks, reintroduce dairy and take note if your symptoms start to reappear. If so, it's a good indication that dairy is the cause of your symptoms. Once you permanently eliminate dairy from your diet, you should experience significant relief.
Don't think you have a dairy allergy, but still suffer symptoms? You might be lactose intolerant. Take our Lactose Intolerance Test to find out
This content is for informational or educational purposes only. Please consult your healthcare provider in regard to recommendations and treatments as this material cannot be used as medical advice.